2019 ORE Nationals Round 1 – KMR
🇿🇦🏁 Rnd.1 South African National Championship 🏁🇿🇦
Awesome weekend for Awesomatix drivers at the first round of the South African National Championship.
Podium lockout in Touring Modified and 1st and 2nd place in ProStock class.
Congratulations to all drivers.
2018 ORE Nationals Round 4 – KMR
The last round of the 2018 South-African ORE national championship was held at Krugersdorp Model Racers at the Key West Track over weekend 03 and 04 November 2017. After Round 3 was cancelled, this event was key in determining the champion as it was three rounds to count for the 2018 championship. Controlled practise was rained out on Thursday but Friday we had great weather and good track conditions ensuring a fast pace for all drivers.
Touring Modified
With the successful IFMAR worlds completed, the current champion Hein Kotze, the 4-time champion Jason Hillcoat and other top drivers from the host club KMR changed chassis brand with many drivers racing the new Awesomatix. The controlled practise and previous practise events showed that reaching the A mains was destined for the fast and consistent drivers. The current champion and the 2018 series leader Hein Kotze dominated the practise and qualification rounds securing a great TQ for Sunday. He was closely followed by his Awesomatix team mate Anderton Smith and Xray driver Shaun Schutte securing 3rd and 2ndon the grid respectively. Hein dominated all three finals with Shaun Schutte holding his own in the second position. Anderton Smith had some troubles in A1 and A3 and Conrad Liebenberg drove good finals from 7th on the grid to grab the remaining podium spot. This great win gave Hein Kotze his second national championship in a row.
Continue reading 2018 ORE Nationals Round 4 – KMR
Awesomatix MMCX-A middle motor conversion kit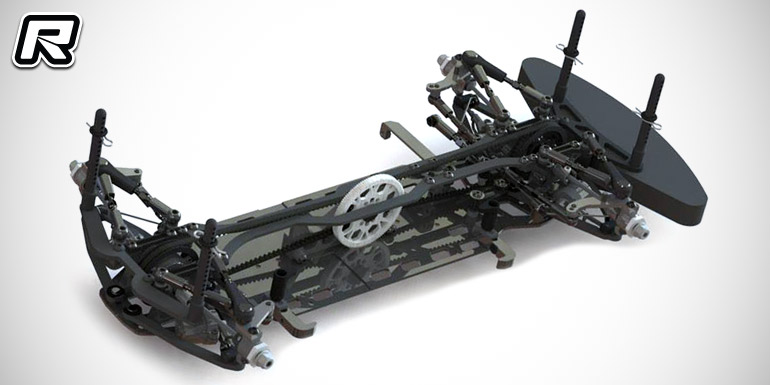 Awesomatix have introduced their new limited edition MMCX-A aluminium chassis mid motor conversion kit for the A800X Evo touring car. The set includes an alloy lower deck, a softer top deck compared to the MMCX-2 carbon fibre chassis set, as well as an aluminium motor mount, two 357mm belts, top deck stiffener and small parts. The conversion is a limited edition and it will hit stores soon.
Continue reading Awesomatix MMCX-A middle motor conversion kit
Protoform D9 electric touring car body shell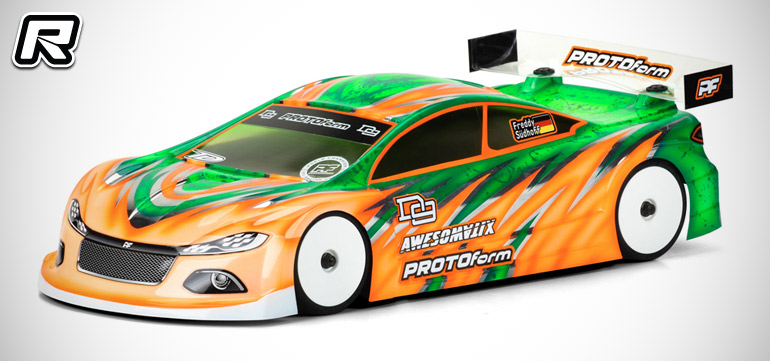 Following a couple of teaser images Protoform have fully unveiled their all-new D9 body shell for 190mm touring cars. After much success with the Type-S, drivers requested a less-aggressive body handling feel in specific conditions where traction roll was being combated, or in super low grip when utmost rear traction was needed. Developed through extensive testing, the D9 features smooth, easy-to-drive handling characteristics, helping to achieve maximum lap times consistency over a run. In addition, added ridges along the front fenders, door panels, a-pillars and trunk bed provide rigidity even in thinner materials. The critical tuning aid of body positioning is once again made easier with PF's mounting marks inside the front wheel arches. Positions for 0, +2mm, +4mm and +6mm are scribed in for convenience. Included with every D9 are the all-new rear wing mounts with top "button" and bottom "nut". The D9 is Global Body Spec compliant and fully EFRA (#4062) & ROAR approved. The body comes made of high-quality, super-durable polycarbonate, it is available in both lightweight and Pro-lite weight versions and includes a decal sheet, window masks, overspray film and wing mounting hardware.
Continue reading Protoform D9 electric touring car body shell
Chassis Focus – Freddy Sudhoff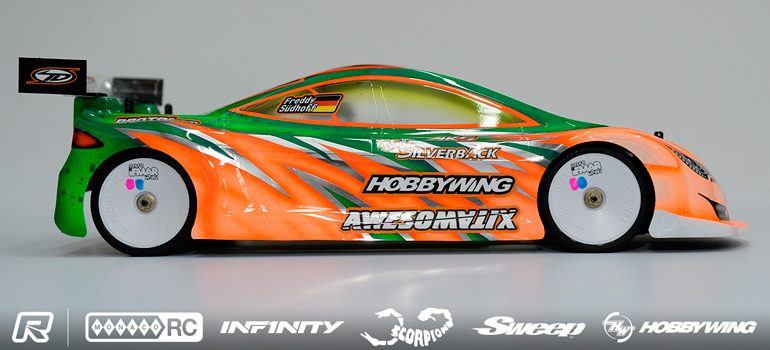 Chassis – Awesomatix A800X MMCX
Motor – Hobbywing V10 G3 4.5T
ESC – Hobbywing XR10 PRO
Battery – Team Silverback Siren HV 6400
Tires (handout) – Team Powers
Radio/Servo – Sanwa/MKS HBL 575 SL
Body – Protoform Type S PRO-Lite
Continue reading Chassis Focus – Freddy Sudhoff