2019 ORE Nationals Round 1 – KMR
🇿🇦🏁 Rnd.1 South African National Championship 🏁🇿🇦
Awesome weekend for Awesomatix drivers at the first round of the South African National Championship.
Podium lockout in Touring Modified and 1st and 2nd place in ProStock class.
Congratulations to all drivers.
2018 ORE Nationals Round 4 – KMR
The last round of the 2018 South-African ORE national championship was held at Krugersdorp Model Racers at the Key West Track over weekend 03 and 04 November 2017. After Round 3 was cancelled, this event was key in determining the champion as it was three rounds to count for the 2018 championship. Controlled practise was rained out on Thursday but Friday we had great weather and good track conditions ensuring a fast pace for all drivers.
Touring Modified
With the successful IFMAR worlds completed, the current champion Hein Kotze, the 4-time champion Jason Hillcoat and other top drivers from the host club KMR changed chassis brand with many drivers racing the new Awesomatix. The controlled practise and previous practise events showed that reaching the A mains was destined for the fast and consistent drivers. The current champion and the 2018 series leader Hein Kotze dominated the practise and qualification rounds securing a great TQ for Sunday. He was closely followed by his Awesomatix team mate Anderton Smith and Xray driver Shaun Schutte securing 3rd and 2ndon the grid respectively. Hein dominated all three finals with Shaun Schutte holding his own in the second position. Anderton Smith had some troubles in A1 and A3 and Conrad Liebenberg drove good finals from 7th on the grid to grab the remaining podium spot. This great win gave Hein Kotze his second national championship in a row.
Continue reading 2018 ORE Nationals Round 4 – KMR
Chassis Focus – Freddy Sudhoff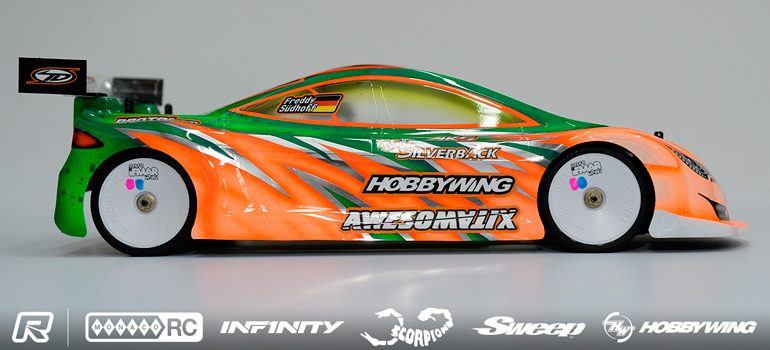 Chassis – Awesomatix A800X MMCX
Motor – Hobbywing V10 G3 4.5T
ESC – Hobbywing XR10 PRO
Battery – Team Silverback Siren HV 6400
Tires (handout) – Team Powers
Radio/Servo – Sanwa/MKS HBL 575 SL
Body – Protoform Type S PRO-Lite
Continue reading Chassis Focus – Freddy Sudhoff
Chassis Focus – Loic Jasmin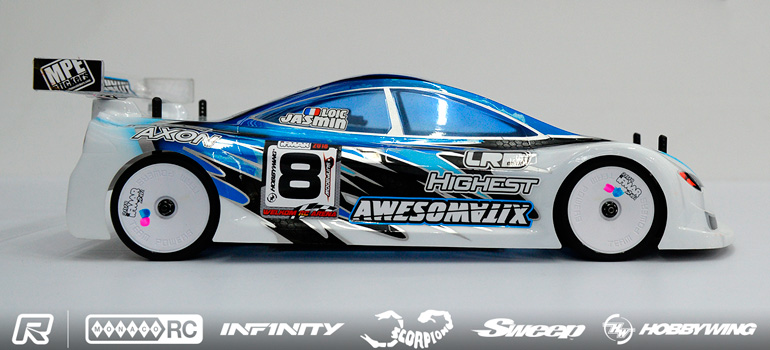 Chassis – Awesomatix A800X MMCX
Motor – LRP X22 4.5T
ESC – LRP Flow X
Batteries – LRP 6400
Tires – Team Powers (handout)
Radio/Servo – Sanwa/Highest DLP650
Bodyshell – Protoform Type S Pro Light
Remarks – Joining team-mate Freddy Südhoff in the A-Main here at the World Championships in South Africa, top French driver Loic Jasmin is using Awesomatix's A800X MMCX. Like Südhoff, Loic also felt more comfortable with the Mid Motor configuration on the Welkom RC Arena indoor asphalt track because it offered more steering and rotation. In terms of set-up Loic's car is similar to Freddy's setup using the new C04M1+9.0 arms in front and C04M1+8.0 arms in the rear as well as the new AM105 rear stiffener.